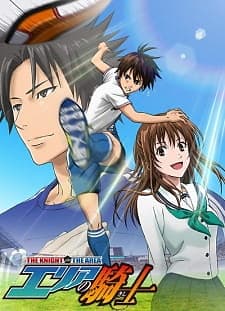 Alternative Titles
☆ English: The Knight in the Area
☆ Japanese: エリアの騎士
Information
☆ Type: TV
☆ Episodes: 37
☆ Status: Finished Airing
☆ Aired: Jan 7, 2012 to Sep 29, 2012
☆ Premiered: Winter 2012
☆ Producers: TV Asahi, Shin-Ei Animation
☆ Genres: Comedy, School, Shounen, Sports
☆ Duration: 25 min. per eps
☆ Rating: PG-13 – Teens 13 or older
© Credit : Oploverz | Animeindo
© Convert & Upload : Fariz A.
© Posted by : Fariz A.
Sinopsis
Percaya dirinya tidak berguna di sepak bola, Aizawa Kakeru memilih untuk menjadi manajer tim sepakbola sekolahnya, sementara Suguru saudaranya adalah kartu As, dan bahkan cukup baik untuk mewakili Jepang. Namun, Kakeru dapat menyimpan bakat yang kuat dalam dirinya bahwa Suguru hanya bisa melihat, dan dua sering masuk ke dalam argumen atas penolakan Kakeru tentang keahliannya. Hal yang dibuat lebih rumit dengan kembalinya Nana, seorang teman bermain lama mereka bahwa Kakeru naksir. Bergabung dengan saudara dalam perjalanan mereka ke kejuaraan nasional bahkan internasional!
Theme Song
→ Opening
1. "Higher Ground (ハイヤーグラウンド)" by S.R.S
→ Ending
1. ?
NB : Jika Link Mati Harap Beritahu Admin Dengan Berkomentar Di Posting Ini./a