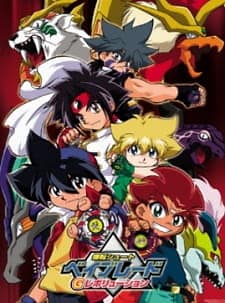 Alternative Titles
☆ English : Beyblade G Revolution
☆ Synonym : Beyblade Revolution; Beyblade GRevolution
☆ Japanese : 爆転シュート ベイブレードGレボリューション
Information
☆ Type : TV
☆ Episodes : 52
☆ Status : Finished Airing
☆ Aired : Jan 6, 2003 to Dec 29, 2003
☆ Producers : d-rights
☆ Studio : Madhouse
☆ Genres : Action, Adventure, Comedy, Sci-Fi, Shounen, Sports
☆ Duration : 21 min per episode
☆ Rating : PG – Children
© Source : Aeronime
© Convert & Upload : Ardian Dragneel
© Posted by : Ardian Dragneel
Sinopsis
Setelah menjaga BitBeast mereka dari bahaya, turnamen kejuaraan dunia diumumkan, tetapi juara bertahan tidak semuanya berada di tim yang sama. Persahabatan mereka akan diuji dan dicoba ketika masing-masing Bladebreaker melanjutkan untuk membuktikan mengapa mereka adalah Beyblader terbaik di sekitar. Tyson, Max, Ray, Kai, dan pendatang baru Daichi, harus mempertahankan cara kemenangan mereka … bahkan jika mereka harus saling berhadapan. Tapi, setelah turnamen berakhir, apa musuh lama mereka, Boris, mengambil alih BBA dan mengubahnya menjadi BEGA, Beyblade Entertainment Global Association. Untuk menyelamatkan seluruh dunia dari korupsi BEGA, Bladebreaker harus bersatu kembali.
Theme Song
→ Opening
1. "Go Ahead ~Bokura no Jidai e~" by Motoko Kumai (eps 1-32)
2. "Identified" by Springs (eps 33-51)
→ Ending
1. "Oh Yes!!" by Sista with Yuk
2. "Kaze no Fuku Basho" by Makiyo
3. "Sign of Wish" by Makiyo
---
---
NB : Jika Link Mati atau Tertukar Harap Beritahu Admin Dengan Berkomentar Di Posting Ini.