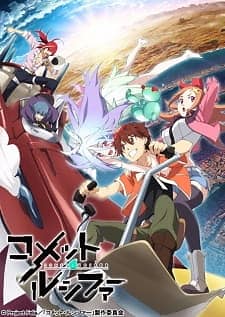 Alternative Titles
☆ Japanese: コメット・ルシファー
Information
☆ Type: TV
☆ Episodes: 12
☆ Status: Finished Airing
☆ Aired: Oct 4, 2015 to Dec 20, 2015
☆ Producers: Sentai FilmworksL, 8bit
☆ Genres: Adventure, Fantasy
☆ Duration: 23 min. per ep.
☆ Rating: PG-13 – Teens 13 or older
© Convert & Upload : Excel Blaze-San
© Posted by : Excel Blaze-San
Sinopsis
Hadiah, dunia ditutupi berkilauan kristal biru disebut gifdium. Sougo Amagi adalah seorang anak yang tinggal di kota Garden Indigo, yang telahmakmur dari pertambangan kristal tersebut. Sougo, yang hobi mengumpulkan kristal langka, satu hari menjadi terlibat dalam sengketa antara teman sekelas kaon, Roman, dan Otto. Dia mengembara jauh ke dalam reruntuhan tambang dan menemukan sebuah danau bawah tanah. Ada, Sougo bertemu dengan seorang gadis misterius dengan rambut biru dan mata merah. Siapa gadis ini, dan apa yang akan mereka membawa pertemuan? Pintu petualangan terbuka dengan ikatan mereka yang baru terbentuk.
Theme Song
→ Opening
1. "Comet Lucifer: The Seed and the Sower" by fhána
→ Ending
1. "Oshiete Blue Sky" by Ayaka Ohashi
NB : Jika Link Mati Harap Beritahu Admin Dengan Berkomentar Di Posting Ini.