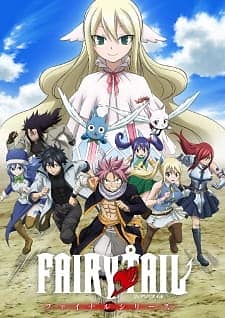 Alternative Titles
☆ English : Fairy Tail Final Series
☆ Synonym : Fairy Tail Season 3; Fairy Tail (2018)
☆ Japanese : FAIRY TAIL ファイナルシリーズ
Information
☆ Type : TV
☆ Episodes : Unknow
☆ Status : Curently Airing
☆ Aired : Oct 7, 2018 to ?
☆ Premiered : Fall 2018
☆ Producers : Avex Pictures
☆ Studio : A-1 Pictures, Bridge
☆ Genres : Action, Magic, Adventure, Fantasy, Comedy, Shounen
☆ Duration : 24 min per episode
☆ Rating : PG-13 – Teens 13 or older
© Source : OPloverz, Samehada
© Convert & Upload : Ardian Dragneel
© Posted by : Ardian Dragneel
Sinopsis
Serial terakhir dari Anime Fairy Tail. Menceritakan pertarungan antara penyihir Guild Fairy Tail melawan penyihir hitam Zeref beserta Acnologia.
Theme Song
→ Opening
1. "power of the dream" by lol (lol-エルオーエル-)
→ Ending
1. "Endless Harmony" by Beverly
---
---
NB : Jika Link Mati Harap Beritahu Admin Dengan Berkomentar Di Posting Ini.