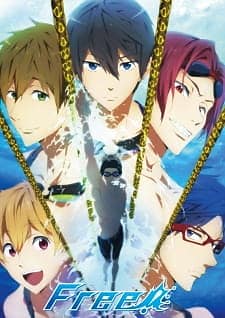 Alternative Title
☆ Synonym : Free! – Iwatobi Swim Club
☆ Japanese : Free!
Information
☆ Type : TV
☆ Episode : 12
☆ Status : Finished Airing
☆ Aired : Jul 4, 2013 to Sep 25, 2013
☆ Producers : Kyoto Animation, Lantis, Animation Do, Iwatobi High School Swimming Club
☆ Genre : Comedy, School, Sports, Slice of Life
☆ Duration : 24 Min per Episode
☆ Rating : PG-13 – Teens 13 or older
© Credit : Anisubsia
© Convert & Upload : Ardian Sin Jurai
© Posted by : Ardian Sin Jurai
Sinopsis
Cerita ini berkisah tentang Haruka Nanase, seorang anak yang selalu mencintai harus direndam dalam air, dan berenang di dalamnya. Sebelum lulus SD, ia berpartisipasi dalam turnamen renang bersama dengan anggota klub renang sesama, Makoto Tachibana, Nagisa Hazuki, dan Rin Matsuoka. Setelah mencapai kemenangan, masing-masing anak laki-laki pergi sendiri-sendiri. Waktu berlalu, dan di tengah-tengah sekolah tinggi lancar hidup mereka Rin muncul dan menantang Haruka ke pertandingan, menunjukkan Haruka kekuatan luar biasa nya. Tidak ingin hal itu berakhir seperti ini, Haruka, mengumpulkan bersama-sama Makoto dan Nagisa sekali lagi dan membawa anggota baru bernama Rei Ryugazaki untuk menciptakan Iwatobi SMA Swimming Club untuk mengalahkan Rin.
Theme Song
– Opening
1. "Rage on" by OLDCODEX
– Ending
1. "SPLASH FREE" by STYLE FIVE
2. "EVER BLUE" by STYLE FIVE
---
Download All Episode
---
NB : Jika Link Mati Harap Beritahu Admin Dengan Berkomentar Di Posting Ini.