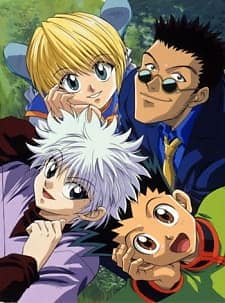 Alternative Titles
☆ Synonym : HxH 1999
☆ Japanese : HUNTER×HUNTER(ハンター×ハンター)
Information
☆ Type : TV
☆ Episodes : 62
☆ Status : Finished Airing
☆ Aired : Oct 16, 1999 to Mar 31, 2001
☆ Producers : Fuji TV
☆ Studio : Nippon Animation
☆ Genres : Action, Adventure, Super Power, Fantasy, Shounen
☆ Duration : 20 min per episode
☆ Rating : PG-13 – Teens 13 or older
© Source : Harie
© Convert & Upload : Ardian Dragneel
© Posted by : Ardian Dragneel
Sinopsis
Hunter terspesialisasi dalam berbagai bidang, mulai dari perburuan harta hingga memasak. Mereka memiliki akses dana dan informasi yang tidak tersedia yang memungkinkan mereka untuk mengejar impian dan minat mereka. Namun, menjadi hunter adalah hak istimewa khusus, hanya dicapai dengan mengikuti ujian mematikan dengan tingkat keberhasilan yang sangat rendah.
Gon Freecss, seorang bocah laki-laki berusia 12 tahun dengan harapan menemukan ayahnya yang hilang, memulai sebuah upaya untuk mengikuti Ujian Hunter. Sepanjang jalan, ia menjemput tiga teman yang juga bertujuan untuk mengambil tes berbahaya: Kurapika yang ingin balas dendam, calon dokter Leorio Paladiknight, dan seorang anak nakal seusia dengan Gon, Killua Zoldyck.
Theme Song
→ Opening
1. "Ohayou (おはよう)" by Keno (eps 1-48)
2. "Taiyou wa Yoru mo Kagayaku (太陽は夜も輝く)" by Wino (eps 49-62)
→ Ending
1. "Kaze no Uta; Song of the Wind" by Minako Honda (eps 1-31)
2. "E-Jan – Do You Feel Like I Feel" by Masato Nagai (eps 32-50)
3. "Hotaru" by Masato Nagai (eps 51-62)
---
---
NB : Jika Link Mati atau Tertukar Harap Beritahu Admin Dengan Berkomentar Di Posting Ini.