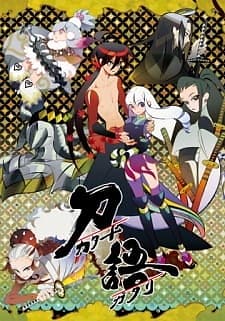 Alternative Titles
☆ Synonyms: Sword Story
☆ English: Katanagatari
☆ Japanese: 刀語
Information
☆ Type: TV
☆ Episodes: 12
☆ Status: Finished Airing
☆ Aired: Jan 26, 2010 to Dec 11, 2010
☆ Season: Winter 2010 to Fall 2010
☆ Producers: Aniplex, Lantis, Kodansha, Movic, Fuji TV, White Fox, NIS America, Inc.L
☆ Genres: Action, Adventure, Historical, Martial Arts
☆ Duration: 50 min. per ep.
☆ Rating: R – 17+ (violence & profanity)
© Convert & Upload : Excel Blaze-San
© Posted by : Excel Blaze-San
Sinopsis
Pada zaman Edo, terdapat seorang pembuat pedang yang dikenal telah membuat seribu pedang selama hidupnya. Namun kejayaannya adalah disaat ia membuat 12 pedang yang dinamakan Deviant Swords. Konon siapa pun yang memiliki salah satu pedang tersebut mampu mengalahkan pasukan tentara hanya dengan sekali tebas. Shogun yang berkuasa pada masa itu menginginkan keduabelas pedang itu dan menugaskan seorang cewek ahli strategi bernama Togame. Ternyata tentara yang diutus Togame malah tergiur kekuasaan dan menghianatinya sehingga Togame mencari seseorang yang tidak tergiur untukmemiliki pedang tersebut.Jatuhlah keputusan itu kepada Mutsue Yasuri, seorang penguasa aliran Kyotouryuu, yaitu ilmu beladiritangan kosong terkuat yang pernah dikenal Jepang. Sayangnya setelah Togame mencari pria itu disebuah pulau terpencil, ternyata pria itu telah tiada dan mewariskan ilmu Kyotouryuu kepada Shichika Yasuri. Di pulau terpencil itu, Shichika tinggal bersama kakak perempuannya, Nanami Yasuri, yang sakit-sakitan. Dibalik tubuhnya yang lemah, Nanami memiliki kekuatan dan ilmu beladiri yang menakutkan. Berhasilkah Togame mengumpulkan keduabelas Deviant Swords denganbantuan Shichika yang menguasai ilmu beladiri tangan kosong? Bagaimana kelanjutan 'hubungan' Togame dan Shichika kedepannya?
Theme Song
→ Opening
1. "Meiya Kadenrou" by Minami Kuribayashi
2. "Katana to Saya" by ALI PROJECT
R1. "Hakushi Kassai Uta Awase" by supercell
→ Ending
1. "Tasogare no Gekka" by Yousei Teikoku
2. "Refulgence" by Shoujobyo
3. "Senbonsenyo no Hamariuta" by Hata Aki
4. "Kyomu noHana" by kukui
5. "Ai to Makoto" by Tamura Yukari
6. "Yuki no Onna" by ALI PROJECT
7. "Mayoigo Sagashi" by Nakahara Mai 8. "Karakuri Nemuri Dan" by Nomiko
9. "Akashi" by Annabel
10. "Ina, to Hime wa Subete wo Katarazu" by Tomatsu Haruka
11. "Bourei-tachi yo Yabou no Hate ni Nemure" by Faylan
12. "Toki Sudeni Hajimari wo Kizamu" by Kuribayashi Minami
R1. "Koto no Ha" by Piko
---
Download All Episode
---
NB : Jika Link Mati Harap Beritahu Admin Dengan Berkomentar Di Posting Ini.