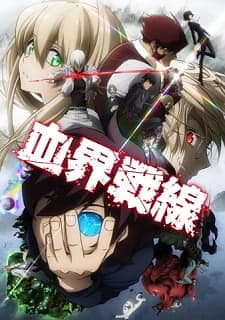 Alternative Title
☆ Synonyms : Bloodline Battlefront
☆ Japanese : 血界戦線
Information
☆ Type : TV
☆ Episodes : Unkown
☆ Status : Curently Airing
☆ Aired : Apr 5, 2015 to ?
☆ Producers : Bones, FUNimation Entertainment
☆ Genres : Action, Adventure, Fantasy, Super Power, Supernatural, Vampire, Seinen
☆ Duration : 24 Min per Episode
☆ Rating : R – 17+ (violence & profanity)
© Credit : Tonansub, Animencode
© Convert & Upload : Portgas D. Ardian
© Posted by : Portgas D. Ardian
Sinopsis
Sebuah pelanggaran antara Bumi dan neraka telah membuka gerbang di atas kota New York, Menjebak New York ditembus oleh makhluk dari dimensi lain. Yang akhirnya mereka kini saling hidup berdampingan dengan rukun selama beberapa tahun silam. Sekarang seseorang mengancam untuk memutuskan hubungan mereka, namun sekelompok manusia super telah bekerja agar semua itu tidak terjadi.
Theme Song
→ Opening
1. "Hello, world!" by Bump of Chicken
→ Ending
1. "Sugar Song to Bitter Step (シュガーソング とビターステップ)" by Unison Square Garden
NB : Jika Link Mati Harap Beritahu Admin Dengan Berkomentar Di Posting Ini.