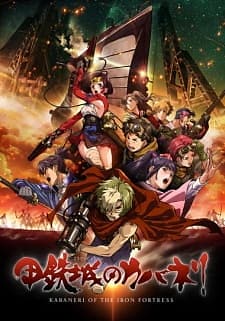 Alternative Titles
☆ English: Kabaneri of the Iron Fortress
☆ Japanese: 甲鉄城のカバネリ
Information
☆ Type: TV
☆ Episodes: 12
☆ Status: Finished Airing
☆ Aired: 8 April 2016 to Jul 1, 2016
☆ Season: Spring 2016
☆ Producers: Fuji TV
☆ Genres: Action, Drama, Fantasy, Horror
☆ Duration: 22 min. per ep.
☆ Rating: R – 17+ (violence & profanity)
© Credit: Oploverz
© Convert & Upload : Ruslan Shinichi
© Posted by : Ruslan Shinichi
Sinopsis
Dalam sebuah dunia yang berada di tengah-tengah revolusi industri, muncullah sesosok monster yang tak bisa dikalahkan kecuali menusuk jantungnya yang dilindungi oleh lapisan besi. Mereka menginfeksi manusia dengan gigitannya, lalu membuat manusia menjadi makhluk agresif dan mayat hidup dikenal sebagai Kabane. Di pulau Hinomoto yang terletak jauh di timur, para manusia telah membangun stasiun untuk berlindung dari makhluk- makhluk ini. Manusia menggunakan stasiun ini sebagai pusat aktivitas mereka, seperti mengelola barang-barang transportasi antara manusia dengan bantuan dari kereta uap yang disebut Hayajiro.
Ikoma, seorang anak yang tinggal di stasiun Aragane dan yang membantu membangun Hayajiro, menciptakan senjata yang disebut dengan Tsuranukizutsu untuk mengalahkan makhluk-makhluk agresif tersebut. Suatu hari, saat ia menunggu kesempatan untuk menggunakan senjata itu, dan ia bertemu seorang gadis bernama Mumei yang lolos dari pemeriksaan wajib Kabane. Saat malam tiba, Ikoma bertemu lagi dengan Mumei saat ia melihat Hayajiro berada diluar kendali. Para petugas kereta pun berubah menjadi Kabane. Stasiun pun sekarang diserang oleh Kabane, dan inilah kesempatan yang telah Ikoma tunggu- tunggu.
Theme Song
→ Opening
1. "KABANERI OF THE IRON FORTRESS" by EGOIST (eps 2-)
→ Ending
1. "KABANERI OF THE IRON FORTRESS" by EGOIST (ep 1)
2. "ninelie" by Aimer with chelly (EGOIST) (eps 2-)
NB : Jika Link Mati Harap Beritahu Admin Dengan Berkomentar Di Posting Ini.