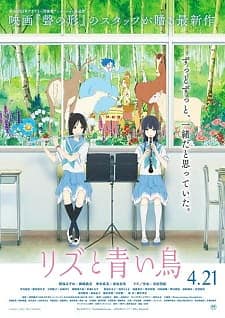 Alternative Titles
☆ Synonym : Gekijouban Hibike! Euphonium: Mizore to Nozomi no Monogatari; Hibike! Euphonium: The Story of Mizore and Nozomi; Hibike! Euphonium Movie: Mizore to Nozomi no Monogatari; Liz and the Blue Bird
☆ Japanese : リズと青い鳥
Information
☆ Type : Movie
☆ Episodes : 1
☆ Status : Finished Airing
☆ Aired : Apr 21, 2018
☆ Producers : Lantis, Shochiku, Pony Canyon, Rakuonsha, Bandai Namco Arts
☆ Studio : Kyoto Animation
☆ Genres : Drama, Music, School
☆ Duration : 1 hour 30 min
☆ Rating : PG-13 – Teens 13 or older
© Source : Itosub
© Convert & Upload : Ardian Dragneel
© Posted by : Ardian Dragneel
Sinopsis
Movie dari Hibike! Euphonium. Yang akan berfokus pada cerita Mizore dan Nozomi. Nozomi dan Mizore sudah duduk di kelas tiga. Ini adalah kompetisi terakhir mereka di klub Kitauji High School. Untuk lagu bebas mereka memilih lagu "Liz and the Blue Bird" Nozomi, yang memainkan suling dan Mizore, memainkan oboe.
Theme Song
→ Opening
1. Unknow theme song
→ Ending
1. "Songbirds" by Homecomings
---
Link Download
Liz and the Blue Bird Subtitle Indonesia
mHD = [CU] / [SF] / [MR]
360p = [CU] / [SF] / [MR]
Like FP Naruchiha untuk Mengikuti Update Anime di Beranda Kalian!
---
NB : Jika Link Mati Harap Beritahu Admin Dengan Berkomentar Di Posting Ini.