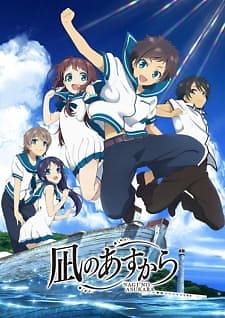 Alternative Titles
☆ Synonyms : Nagi no Asu Kara; Earth color of a calm
☆ English : A Lull in the Sea
☆ Japanese : 凪のあすから
Information
☆ Type : TV
☆ Episodes : 26
☆ Status : Finished Airing
☆ Aired : Oct 3, 2013 to Apr 3, 2014
☆ Season : Fall 2013
☆ Producers : Geneon Universal Entertainment, Rondo Robe
✩ Licensors : NIS America, Inc.
✩ Studios : P.A. Works
✩ Source : Original
☆ Genres : Drama, Fantasy, Romance
☆ Duration : 23 min. per ep.
☆ Rating : PG-13 – Teens 13 or older
© Convert & Upload : Ramdhani Gremory
© Posted by : Ramdhani Gremory
Sinopsis
Sebuah dongeng yang indah yang mengembara melalui tanah dan laut. Hikari Sakishima dan Manaka Mukaido adalah penghuni Laut dan teman masa kecil. Ketika sekolah mereka di laut ditutup mereka dipaksa untuk mengikuti kegiatan seperti orang biasa, namun karena pertemuan khusus, kehidupan mereka mendapatkan sentuhan baru.
Theme Song
→ Opening
1. "lull Soshite Bokura wa" by Ray (eps 1-13)
2: "ebb and flow" by Ray (eps 14-24)
→ Ending
1. Aqua Terrarium" by Nagi Yanagi (eps 1-13)
2: "Mitsuba no Musubime" by Nagi Yanagi (eps 14-25)
3: "lull〜Earth color of a calm〜" by Ray (ep 26)
NB : Jika Link Mati Harap Beritahu Admin Dengan Berkomentar Di Posting Ini.