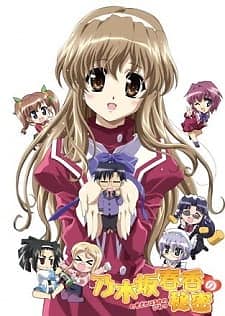 Alternative Titles
☆ English: Haruka Nogizaka's Secret
☆ Japanese: 乃木坂春香の秘密
Information
☆ Type: TV
☆ Episodes: 12
☆ Status: Finished Airing
☆ Aired: Jul 3, 2008 to Sep 25, 2008
☆ Producers: Geneon Universal Entertainment, Diomedea, ASCII Media Works, Studio Mausu
☆ Genres: Comedy, Romance
☆ Duration: 25 min. per episode
☆ Rating: PG-13 – Teens 13 or older
© Credit : Animeindo
© Convert & Upload : Ilham Werec
© Posted by : Ilham Werec
Sinopsis
Bercerita tentang Yuuto Ayase dan teman sekelasnya Haruka Nogizaka. Yuuto orangnya biasa saja, tetapi Haruka sangat menarik, cerdas dan kaya. Karena itu, dia gadis paling populer di sekolah dan karena banyak yang mengidolakan dia, teman- teman sekelasnya memberinya julukan dengan nama Prancis "Nuit Étoile" (The Silver Star of the Night) dan "Lumière du Clavier" (The Shining Princess on Piano). Suatu hari, ketika Yuuto pergi ke perpustakaan sekolah untuk mengembalikan buku dia tersandung dan menabrak Haruka. dan hal yang paling rahasia dari Haruka adalah dia penggemar dari anime, manga dan budaya otaku. Yuuto berjanji untuk menjaga rahasianya tersembunyi dan mereka menjadi teman dekat. Yuuto melakukan yang terbaik untuk membantu Haruka dengan hobi rahasianya sambil hubungan mereka terus tumbuh.
Theme Song
→ Opening
1. Now Theme Song
→ Ending
1. Now Theme Song
---
Download All Episode
---
NB : Jika Link Mati Harap Beritahu Admin Dengan Berkomentar Di Posting Ini.