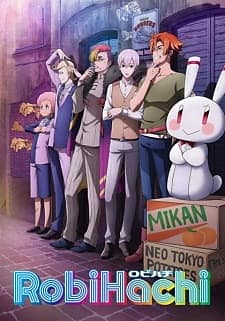 Alternative Titles
☆ Japanese : ロビハチ
Information
☆ Type : TV
☆ Episodes : 12
☆ Status : Curently Airing
☆ Aired : Apr 8, 2019 to ?
☆ Premiered : Spring 2019
☆ Producers : Unknow
☆ Studio : Studio Comet
☆ Genres : Sci-Fi, Space
☆ Duration : 24 min per episode
☆ Rating : none
© Source : TTOD
© Convert & Upload : Ardian Dragneel
© Posted by : Ardian Dragneel
Sinopsis
Neo Tokyo, tahun G.C. (Galaxy Century) 0051, yang menandai setengah abad sejak kontak pertama dibuat. Manusia telah memperoleh teknologi navigasi kecepatan cahaya super dan membentuk komunitas planet dengan alien.
Berpusat pada Robby dan Hacthi, mereka dipertemukan dalam insiden yg tak terduga dan kemudian keduanya memutuskan untuk melakukan perjalanan melintasi galaksi bersama untuk mencari Isekandar.
Theme Song
→ Opening
1. "Tensai no Playlist (天才のプレイリスト)" by Hatchi feat.Robby
→ Ending
1. "Dancing to Night ~Kimi e no Saidan Warp Kouro~ (Dancing to Night ~君への最短ワープ航路~)" by Allo&Gras feat.Yang
---
---
NB : Jika Link Mati atau Tertukar Harap Beritahu Admin Dengan Berkomentar Di Posting Ini.