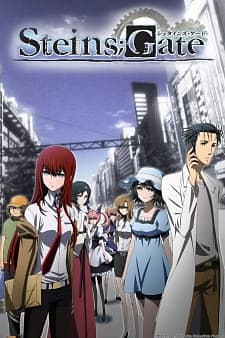 Alternative Title
☆ English : Steins;Gate
☆ Japanese : シュタインズ・ゲート
Information
☆ Type: BD
☆ Episodes: 24
☆ Status: Finished Airing
☆ Aired: Apr 6, 2011 to Sep 14, 2011
☆ Producers: Frontier Works, FUNimation EntertainmentL, Media Factory, Movic, AT-X, White Fox, Kadokawa Pictures Japan, Nitroplus
☆ Genres: Thriller, Sci-Fi
☆ Duration: 24 min. per ep.
☆ Rating: R – 17+ (violence & profanity)
© Convert & Upload: Excel Blaze-San
© Posted by: Excel Blaze-San
Sinopsis
Ceritanya tentang Okabe Rintarou, Daru dan Mayuri yang mungkin sengaja atau tidak memodifikasi microwave yang dihubungkan dengan ponsel yang bisa mengirim pesan ke masa lalu.Di saat yang sama mereka mengetahui bahwa Organisasi Riset Eropa dalam Bidang Nuklir danFisika Partikel (SERN) juga tengah dalam masa pengembangan mesin waktu, mulai saat itulah mereka adu kebut dengan SERN dalam menciptakan mesin waktu, dan menyelamatkan nyawa mereka sendiri tentunya…Penasaran…?
Theme Song
→ Opening
1. "Hacking to the Gate" by Kanako Itou
→ Ending
1. "Toki Tsukasadoru Juuni no Meiyaku" by Yui Sakakibara
2. "Fake Verthandi" by Takeshi Abo
3. "Sky Clad no Kansokusha" by Kanako Itou
4. "Another Heaven" by Kanako Itou
Steins;Gate BD
NB : Jika Link Mati Harap Beritahu Admin Dengan Berkomentar Di Posting Ini.