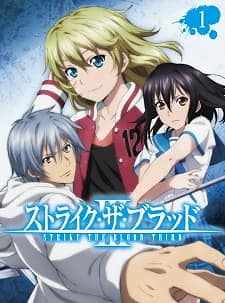 Alternative Titles
☆ English : Strike the Blood Third
☆ Japanese : ストライク・ザ・ブラッドⅢ
Information
☆ Type : OVA
☆ Episodes : 10
☆ Status : Curently Airing
☆ Aired : Dec 19, 2018 to Sep 25, 2019
☆ Premiered : Winter 2019
☆ Producers : Magic Capsule
☆ Studio : Connect
☆ Genres : Action, Ecchi, Fantasy, Supernatural, Vampire
☆ Duration : 24 min per episode
☆ Rating : none
© Source : Animeindo
© Convert & Upload : Ardian Dragneel
© Posted by : Ardian Dragneel
Sinopsis
Season ke 3 dari Anime Strike the Blood.
Theme Song
→ Opening
1. "Blood and Emotion" by Kishida Kyoudan & The Akeboshi Rockets
→ Ending
1. "LOVE STOIC" by Yukina Himeragi (Risa Taneda)
---
---
NB : Jika Link Mati atau Tertukar Harap Beritahu Admin Dengan Berkomentar Di Posting Ini.