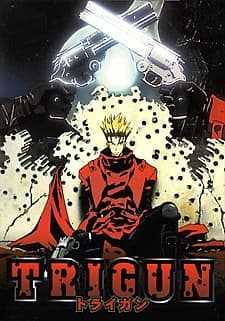 Alternative Title
☆ English : Trigun
☆ Japanese : トライガン
Information
☆ Type : TV
☆ Episodes : 26
☆ Status : Finished Airing
☆ Aired : Apr 1, 1998 to Sep 30, 1998
☆ Producers : Madhouse, Geneon Universal Entertainment, FUNimation Entertainment
☆ Genres : Action, Comedy, Sci-Fi
☆ Duration : 24 Min per Episode
☆ Rating : PG-13 – Teens 13 or older
© Credit : MZF | Panayagan
© Convert & Upload : Ridwan, Fariz
© Posted by : Ridwan Zero
Sinopsis
Vash Stampede adalah manwith dicari kebiasaan mengubah seluruh frontiertowns menjadi puing-puing. Harga pada hishead adalah keberuntungan, dan jalan ofdestruction nya mencapai seluruh aridwastelands dari planet padang pasir. Sayangnya, sebagian besar pertemuan withthe Gunslinger runcing berambut tidak Endwell untuk pemburu hadiah yang saus tomat dengan dia; seseorang hampir alwaysgets sakit-dan itu tidak pernah Vash. Oddlyenough, untuk sebuah buronan terkenal, tidak ada bukti bahwa dia pernah diambil Alife. Bahkan, dia seorang pasifis dengan adoughnut obsesi siapa moredoofus dari bandit. Ada awhole banyak lagi baginya daripada hisreputation memungkinkan on-Vash the Stampede pasti tidak typicaloutlaw Anda.
Theme Song
→ Opening
1. "H.T." by Tsuneo Imahori
→ Ending
1. "Kaze wa Mirai ni Fuku (The Wind Blows to the Future)" by AKIMA & NEOS
NB : Jika Link Mati Harap Beritahu Admin Dengan Berkomentar Di Posting Ini.